Donate
Thank you for visiting!
As you may have seen Kent Media Group are raising money for charity during the COVID-19 / Coronavirus pandemic by doing a few different things to raise money for Charity.
The proceeds from the fundraising will be donated to charity.
We have sent an e-mail on 6th May 2020 to Medway NHS Foundation Trust to see how we can make our donation to the children's wards at Medway Hospital once our fundraising has finished, we will keep going until lockdown is lifted! 
We have asked the trust that the fundraising efforts be put towards the Dolphin & Penguin Wards at Medway Hospital.
Charitable Cause
On the 6th May 2020 we have contacted Medway NHS Foundation Trust to arrange the fundraising donation.
We have asked for the funds to go to The Dolphin & Penguin Wards at Medway Hospital which are the 2 children's wards at the hospital.
All proceeds (after VAT and processing fees) from the sales will be donated to charity. On plain donations there is no VAT meaning more money goes to charity! 
Fundraising and what we've been doing!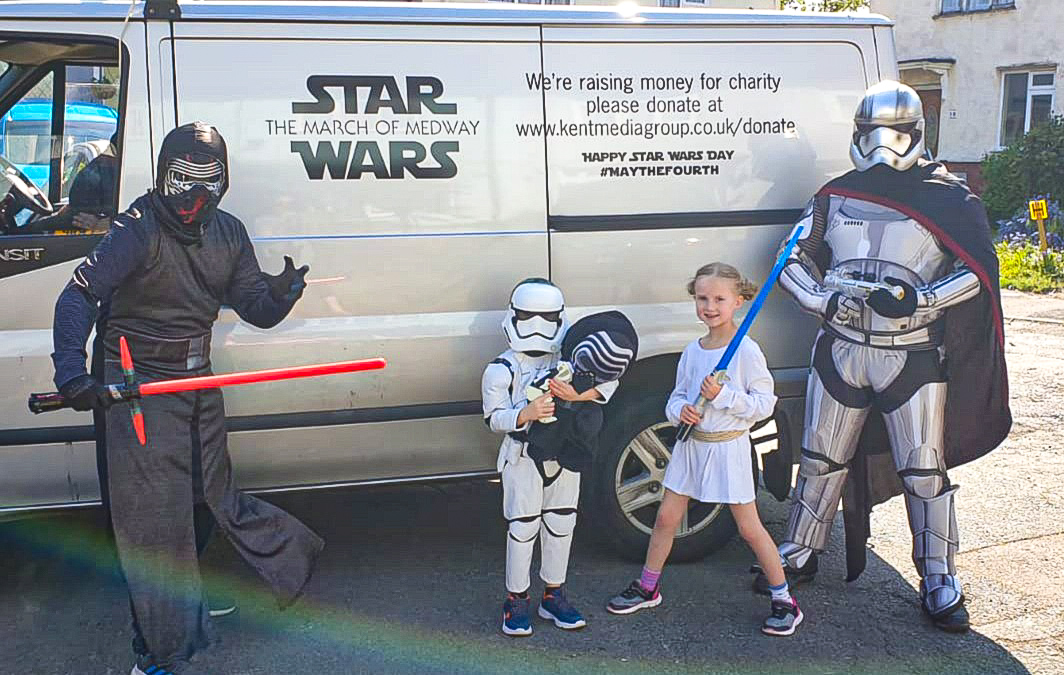 Star Wars – The March Of Medway
On Star Wars Day (May the 4th) some of our team dressed up in Star Wars costumes and walked some of the streets of Borstal & Wainscott to raise the spirits of children (and the bigger children too!)
The walk ended up being just over 10.5 miles long and we don't mind telling you it was a bit of a challenged but we completed it all in a few hours!
We were also accompanied by a van belonging to one our team (Neal) who kindly followed the walk whilst playing the Star Wars music from the speakers mounted on top of the van kindly leant to us by Mic of Historyonics, Chatham Dockyard.
The van also had a vinyl applied to let people know that we were raising money for charity, the vinyl was kindly produced for us by Dean of Signs & Imaging South East.
More Star Wars Marches to come!
After the walk on Star Wars day we have been contacted by quite a few people from other areas in Medway. Originally we had only planned to do the one walk on Star Wars day to keep in with the theme.
We are happy to say that we are planning to do walks in other areas of Medway on other dates to continue raising money for charity.
Please do like and follow our Facebook page to keep up do date with planned walks and the routes.
If you do have any pictures or videos you would be happy for us to display on our social media / website please do get in touch or tag us / share with us on the social media pages if so. We'd love to see them!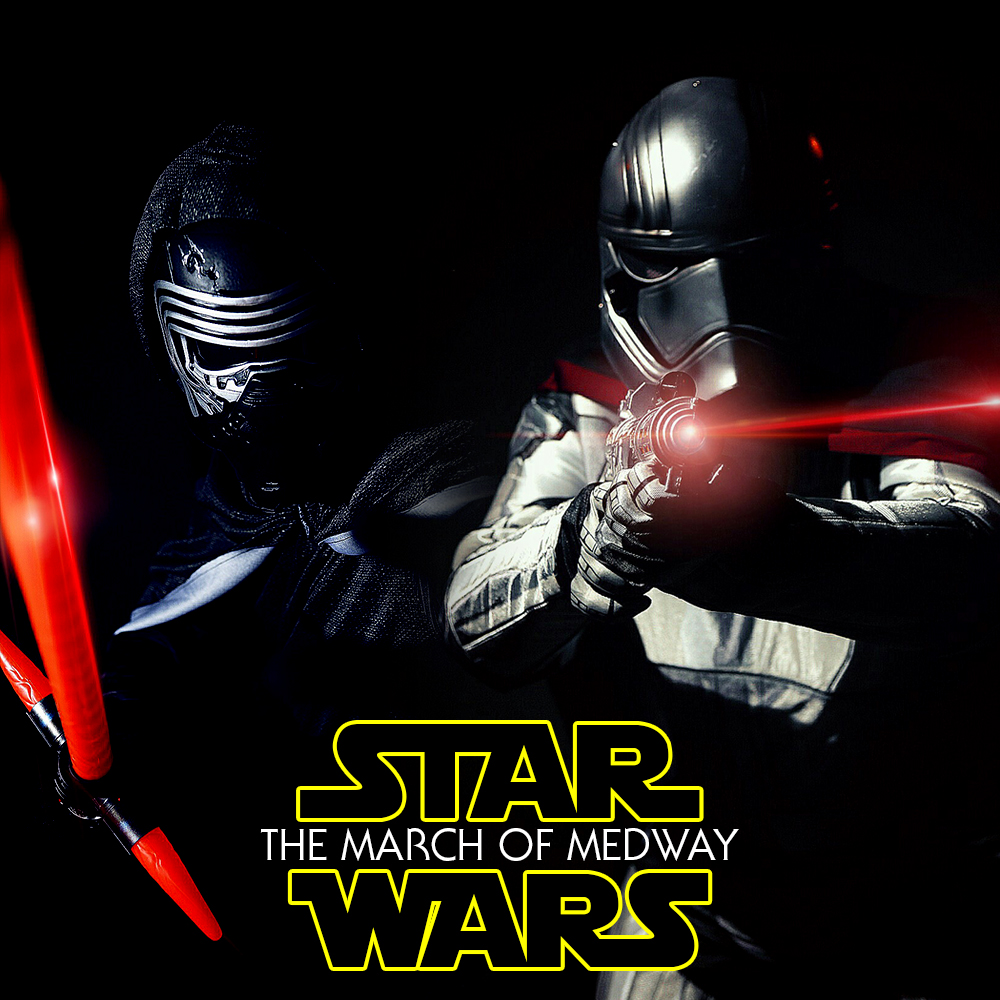 Take a look at some of the photos!
Take a look at some of the videos
3D Animation Videos
These videos have been created to raise money for charity.
This idea came about in the past few weeks where we've seen many people on our social media pages lighting their houses and some even playing music which may not always be appropriate in certain areas. We worried that many key workers may work nights or have shift pattens that may be interrupted by playing music, we also worried it could also upset folks trying to sleep and disturb little children.
So alongside our good friend Robert Griffiths we thought this would be a great way to show your appreciation without disturbing anyone or getting the police called to break up a party, thank you to Rob for the guidance and testing of the animations we've designed, we hope we can get many copies sold to raise as much money as possible for charity. 
We have seen the animations projected onto buildings, displayed in windows and on live streams too!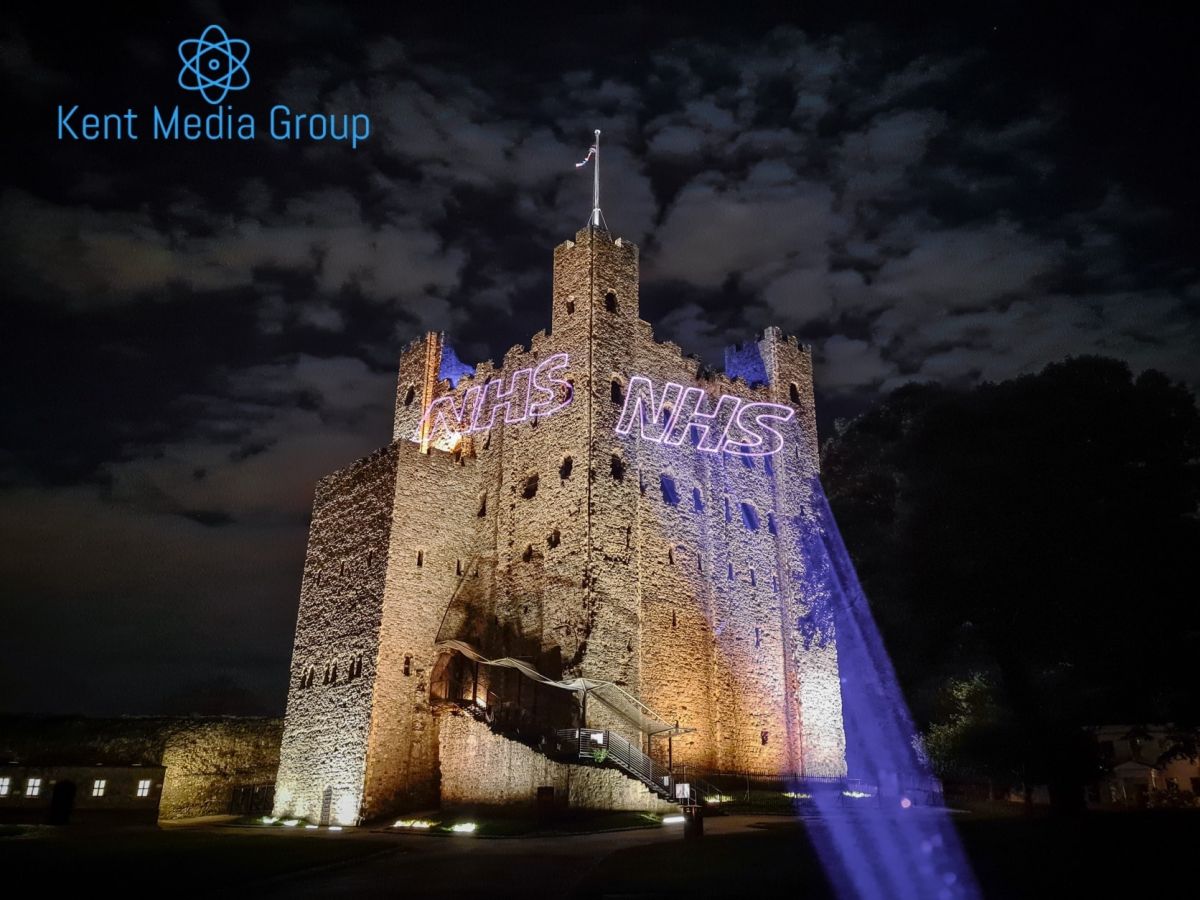 Laser Projection For The NHS
When the clap for carers and clap for the NHS was announced, we knew we had to do something to raise awarness and spread the positivity.
On our first week we projected onto Rochester castle from 600m away on the other side of the river!
A week later on and a few conversations with the council and Rochester Castle we were allowed into the grounds of the castle which were kept open a little later than normal so that we could project! 
Thank you again to Rochester Castle & Medway Council for allowing us to do this, it was absolutely incredible and the support from the residents of Medway was outstanding!
On some evenings we have also projected beams of light into the skies of Medway too, this is part of a world wide "shine a light" campaign that many production companies and lighting enthusiasts are participating in.
Take a look at some of the photos!
Make A Donation To Charity