Abstract XLite Pro System
The Abstract AVR XLite Pro is a 2m tall RGBW LED pixel tube light containing 140 LEDs that are driven by the X-Drive Duplicator (processor) units.
XLite Pro stands firm on its quick release tank trap base for instant load in and setup making them the premium choice of those looking for superior eye candy lighting effects fired from DMX macros built right into the X-Drive units
Please select the options for your XLite Pro system
Each system contains:
1x X-Drive Duplicator (processor) per 4 XLite Pro
1x Tank trap base plates per XLite Pro
The amount of tubes you select in the system size
FREE delivery
Please be aware that your XLite Pro system is built to order, no stock is held at Kent Media Group. As such there may be a few weeks delay from the date of ordering to the date of delivery. Please get in touch to check the latest availability status if your order is urgent.
140 RGBW SMD LEDs
Each XLite pro contains 140x RGBW 5050 SMD LEDs that are individually driven from the X-Drive units for dazzling eye candy effects
2m of LEDs
Each XLite Pro pixel tube is 2m in length (2050mm including the base of the tube and tank trap base plate)
Quick Release Tank Trap Base Plate
Each XLite Pro is secured via the quick release tank trap base plate, the XLite Pro tube simply slots on top of the tank trap base and secures via a sprung pin ensuring it cannot be removed until it is needed to.
Advanced Specifications
Voltage: 5V
LED's Per Meter: 70 (140 per XLite Pro)
LED Type: SMD5050
Power Consumption: 18W/M (36w per XLite Pro)
Available Housing Colours: White / Black / Silver
Channels: 4 Channels Per Pixel [RGBW – Red, Green, Blue, White]
IP Rating: IP20
Housing: Aluminium
Connection: 4 Pin XLR
Cable Length: 2m Trailing Tail Per XLite Pro
Controllable Pixels: 1 LED = 1 Pixel
Operating Temperature Range: -20° to 50°C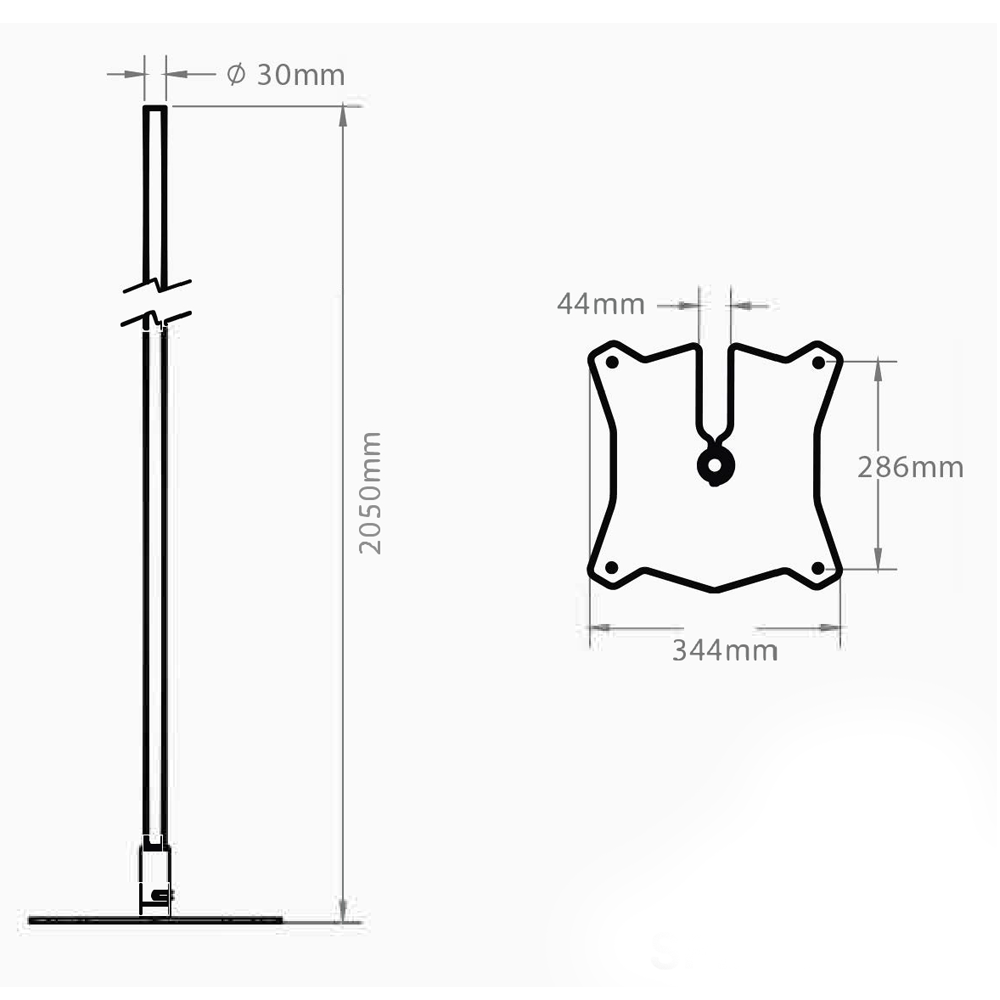 XLite Pro LED Light Tube:
Height: 2050mm (including tank trap base plate and base at the bottom of the tube)
Circumfrence: 30mm 
XLite Tank Trap Base Plate:
Width: 344mm
Depth: 344mm
Height: TBC
Cut Out Width: 44mm
Edge Hole Spacing: 286mm
Each XLite Pro is plugged into one of the four ports of the X-Drive Duplicator (processor unit).
The X-Drive has it's own internal macros that can be triggered and controlled via DMX to achieve the users desired effect.
In built macro effects include:
Wipe
Curtain
Comet
Bounce
Pulse
Trance
Dissolve
Flame
Candle
Rain
Expand
Sparkle
Strobe
In DMX mode you can control 3 separate layers of effects that overlay one another, each with their own effect running.
You can also control the attribute of every layer effect individually, such as:
Effect Edge – Variable from hard to soft (i.e. in blocks or fading in)
Colour – You can colour mix using RGBW values or select from the range of colours and rainbow effects on the rainbow channel
Effect Speed  – Variable from slow – fast
Effect Duplication – Variable from 1 – 16 duplicates
Dimmer
Sound to light effects (coming soon)
As well as DMX, the X-Drive unit features static colour modes and an automatic demo mode which will cycle through a range of pre-built effects.
Each X-Drive has 4x outputs so a maximum of 4x XLite Pros can be connected to 1 X-Drive.
A maximum cable length of 7m can be connected to each output (a 5m extension between the X-Drive and XLite pro), extensions are available an optional extra.
Every output on the X-Drive is mirrored so all 4 connected XLite Pros will be displaying the same effect, the outputs are not currently individually controllable.
Multiple X-Drive units can be connected via DMX so that more than 4 XLite Pro tubes can be used at the same time on the same show.